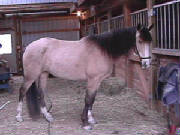 Hi April,
I just wanted to write to thank you for taking on my Nellie for training. You can use this letter as a reference if you'd like. Nellie turned out to be my dream horse. As you know, when she came to me at two years of age, she was scared of her own shadow. She thought about jumping over her stall wall the first few nights. I watched her and thought to myself "what have I done?". Then as a three year old she went to you for saddle training. whith your patients and understanding of her delicate mind, Nellie bloomed! After a short two months of training, she would and still will do anything asked of her. We have enjoyed many miles together and even camping. I could only imagine what could have happened if I sent her to a different trainer, who might not have the same talent as you. I highly recommend you to all! I will definitely pass you name to all my friends who may be in need of some training for their horse. Thanks again!
Cher
Newark Valley NY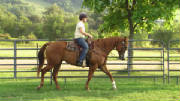 April Smith has done a wonderful job on my 3 yr old quarter horse gelding, Tysun. I was able to work along with her with Tysun as he progressed through his training. that was an aspect I really appreciated. It gave me the opportunity to learn her method of training and to apply the cues she uses under her supervision. That helped me to build a confidence when working with my young horse. April really gets you as involved with the training process as you want to be. You always feel welcomed at River Run Ranch.
April concentrates on what you want from your horse. Since I am a "Trail Rider" Tysun recieved a lot of hours experiencing the big world outside the arena. He learned to handle any "scary situation" with a minimal amount of reaction.
I have already booked my weanling filly for the class of 2007 and have recommended River Run Ranch to several of my friends.
Tanks, April.
Sally O'Connell
Owego, New York

I am totally pleased with the training my 3 yr. old Rocky Mountain gelding, Shekinah, recieved through Apirl Smith. I was impressed by the way April handled my horse - she was firm, kind, knowledgeable and took good care of him while there. I liked the fact that April trained him to the dicipline I would be using him for - trail riding. Since April did the majority of his training on the trail, he was expposed to crossing creeks, riding on the road (cars,trucks), four wheelers, riding with other horses, etc. - all the things that were important to me. Also included in his training was training for me in how to ride my horse the way he was trained, which included all the leg commands, seat, etc. In just 60 days of training, Shekinah had learned respect, voice commands, stand still when mounted, go away/to the barn without problems, spook in place, walk off quietly etc. One other thing I really like - I had Shekinah trained late Spring and now it's the winter months. I don't get to ride him very often, but it doesn't matter if it's a week or a month in between riding, when I mount up, it's like I rode him "yesterday"....he's still quiet.
If I had another horse to be trained, I wouldn't hesitate to select April again. I had some unpleasant experiences with other trainers and was extremely happy to find someone who would do what they said and put the time into my horse required. It's been several months since I had my horse trained and April is only a phone call away to answer questions or offer help. She's not only a great trainer but has turned out to be a trusted friend.
Karla Welch
Owego, NY

I highly recommend April Smith. April is an excellent horse trainer! April had my 4 year old quarter horse gelding Impressive Royal Rock for training September 2001, for 4 weeks. I was very pleased with him when he came home. It was clearly evident that Rocky had recieved all the training that was promised by April. April is an honest, caring and hard working individual.
When I first contacted April, I asked her many questions about how and what she would actually do with Rocky. April said she would work him in the round pen, would actually trail ride him (she even rode him with her dogs), would trailer him a few times, take him on group trail rides, and bathe and clip him. April also told me she woud work with him at least an hour or more a day. She promised more than any other trainer did.
I told my husband that what April proposed was too good to be true. I have had horses for 44 years. Over those years I have had horses to many trainers. Of course I would ask all the questions about their training methods and what they would accomplish with my horse. The "so-called trainers" all assured me my horse would be taken care of and worked as they promised. Well, it just did not happen that way. Most only rode the horse a few times, some would want to keep the horse longer for more money, of course.
Of all the trainers I have used April is the only one that actually delivered the wide range of experiences that she promised. I was invited to ride with her and check on Rocky's progress. Rocky recieved the very best of care at April's. She truly enjoys working with the horses. April is not rough with the horses she respects them and teaches them. She does not "break horses". I did not worry about Rocky's well being while in her care. I would thoroughly trust her with any of my horses.
I would without a doubt have her train another horse for me.
Cheryl Ostrander

Click here to Email Cheryl Ostrander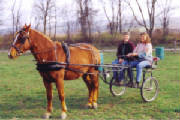 April Smith was recommended to us from other horse people, who have known her for a long time. She uses gentle methods of training.
We sent our 3 yr old mare, Lady, to her for cart training, and trail riding. We were allowed to come any time to watch, and to learn how she was training our horse. We feel owners need training as much as the horses do. April was always pleased to be able to work with the horse owner, and their horse.
The place was clean, the horses were well cared for, and she kept in touch with the owners. We recieved a call from April about two weeks into Lady's cart training. She let us know that Lady was doing so well, that it would be a waste of our money for her to work with her and longer, we could continue working her at home the way she had taught us to. All we had to do was to re-enforce what April had taught Lady and us. She kept our horse only as long as she felt it was necessary, which was the two weeks instead of four.
This spring we will send another 3 yr old filly, Angel, to her that April has helped us to get started by coming to our farm and showing us what to do to make her training to ride and cart easier when the time came. She has also helped to show us what we need to do with a few yearlings we are raising.
She is honest, trustworthy, a hard worker, and has become a respected friend as well. We recommend her highly.
Heide Curren
Click here to Email Heide Curren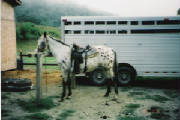 Dear April,
I am writing to thank you for the training you did on our horse Rowdy. His attitude is so much better. He still has his moments of "attitude" but I do as you suggested and am patient, but persistant.
Since his training, we have gone on several trail rides, he is well behaved and is neck reining well.
I want to thank you so much for all you did.
Thanks again,
Gertie Keller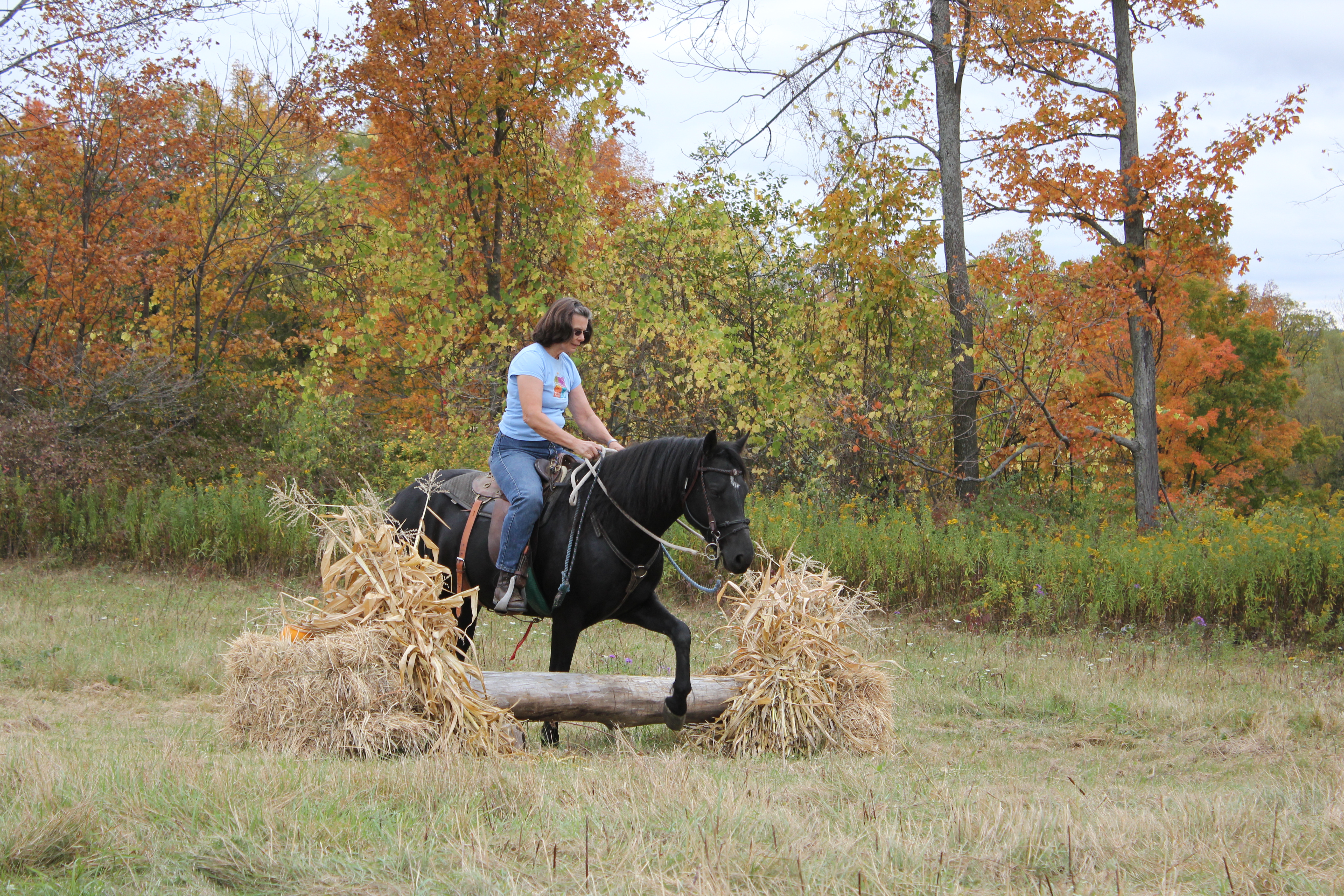 I have known April for many years and can attest to her abilities at horse training. She worked with one of my horses after my hip replacement surgeries, to be sure he was safe to ride. He is super!!
She also worked with another horse last fall, but due to an injury he inflicted upon himself, he was returned. She will be working with him and his sister this spring. I have full confidence that they will both be super riding horses as they will be in the care of a knowledgeable professional.
Doris Enderle